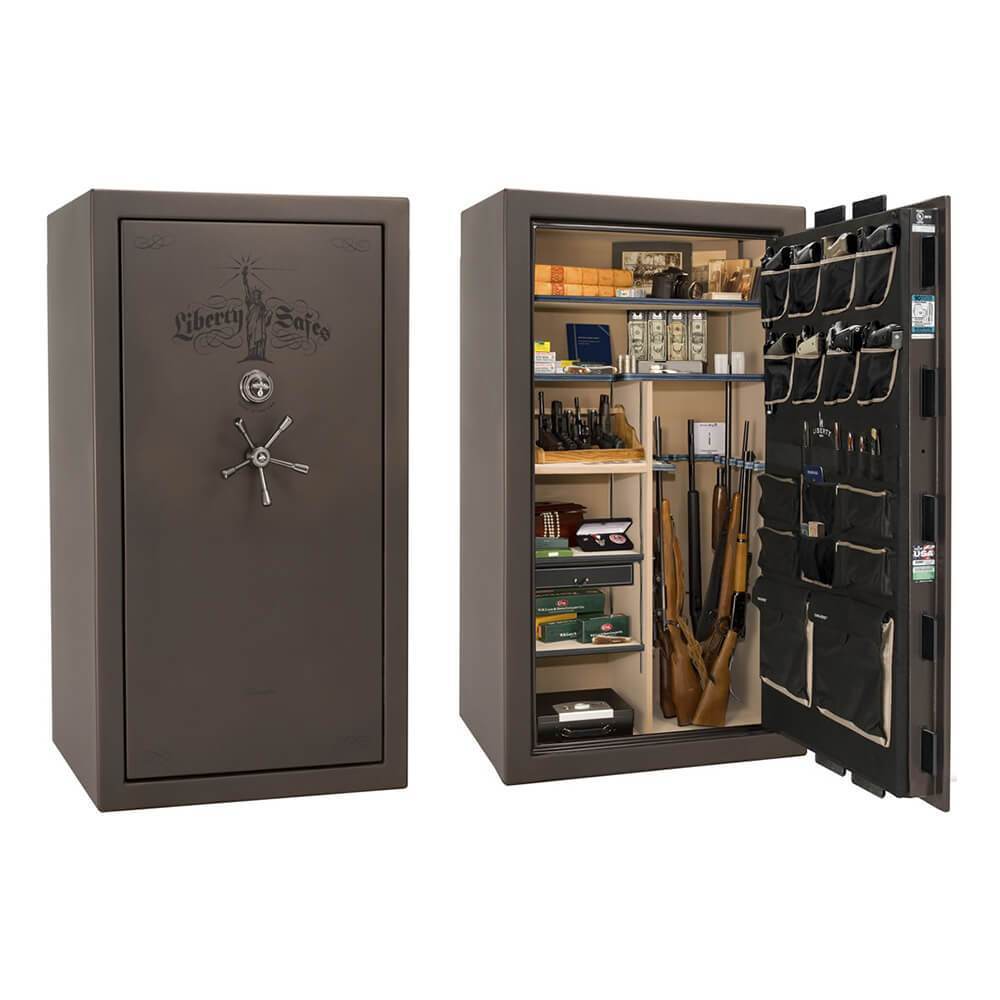 Liberty Safe's Lincoln Series is the #1 rated mid-level safe in the United States. The Lincoln safe provides excellent security and fire protection at an affordable price. I has enhanced standard features that you might expect only in a higher-priced safe. And it is made in the USA!
Overview of Liberty Safe's Lincoln Series
Starting at $2,549, the stylish Lincoln gun safe is available in 24 color options including gloss, marble, textured, and mirrored finishes paired with either a beige or silver velour interior. Depending on your safe color combination, brass, chrome or black chrome hardware will stylize the safe even more.
These full-sized gun safes are available in three sizes:
Lincoln 25; 733 lbs., can store 24 long guns
Lincoln 40; 954 lbs., can store 35 long guns
Lincoln 50; 1150 lbs., can store 41 long guns
Your amount of storage may vary according to the size of your guns and scopes.
Lincoln's Security Features
Rated by Underwriters Laboratories (UL) as Residential Security Containers (RSC-8M10), Lincoln safes are constructed from thick 11-gauge steel using Liberty's innovative roll-form process. The 1-inch composite door includes a 60% inner steel door plate and internal ball-bearing hinges. A total of up to fifteen, 4"-wide, 3/8-inch steel military-style locking bars are throughout all four sides of the door.
Additional security features include:
DX-90 Monster Mech, Over-Center Cam-Drive locking mechanism
Internal and external relockers
UL-Listed S&G™ 6730 Mechanical Lock (standard) with optional upgrade available to SecuRam ProLogic Electronic Lock
Lincoln's Fire Protection Features
The Lincoln safe is big on fire protection features. This safe is fire-rated for 90 minutes' fire protection at 1200°F with a 10-minute ramp-up:
Lincoln's Enhanced Standard Features
Liberty Safe has packed the Lincoln with enhanced standard features you might not expect to find in a mid-range safe, including:
12" Dry Rod Dehumidifier
4-in-1 Flex Interior™
Jewelry drawer
Premium door panel
Stylish, sleek 5-point handle with Slip Clutch technology
Upgraded pin-dot velour upholstered interior
You are covered for damage in the event of a burglary attempt or fire. All Lincoln safes are covered by Liberty Safe's worry-free limited lifetime warranty.